Shenzhen World Exhibition & Convention Center/Shenzhen World
Shenzhen World Exhibition & Convention Center (Shenzhen World for short) is a major project invested by the Shenzhen Municipal Government and jointly constructed by China Merchants Shekou and Overseas Chinese Town for operation. It marks a mega exhibition and convention complex integrating exhibitions, conferences, events (games and performances, etc), catering and commerce.
Phase I of the project started in September, 2016. It was fully completed in September 2019 and put in operation in November. Upon completion, Shenzhen World will rise as a brand new generation of green and smart venue, which will be operated and managed through the cooperation of Shenzhen Zhaohua International Exhibition Operation Co., Ltd (a joint venture of CMSK and OCT) and US-based ASM Global, one of the top three venue operating giants around the world.
Chinese name: 深圳国际会展中心
English name: Shenzhen World Exhibition & Convention Center
English abbreviation: Shenzhen World
Location: No.1 Zhancheng Road, Fuhai Street, Bao'an District, Shenzhen, Guangdong, China
Foundation-laying time: 2016
Completion time: 2019 (Phase I)
Construction area: 1.6 million square meters (Phase I)
Indoor exhibition space: 400,000 square meters (Phase I), 500,000 square meters (full completion)
Total number of exhibition halls: 19 (Phase I)
Website: www.shenzhen-world.com
Shenzhen World is located right next to Shenzhen Bao'an International Airport, neighbouring Fuyong Port, close to S3 Highway, and directly linked to the metro lines and city rails, featuring extremely convenient transportation resources.
Air way: 7 km to T3 of Shenzhen International Airport, 3 km to T4, and only 75 km to HK Airport.
Water way: Closely located to Fuyong port, 1 hour to HK, Macao, Guangzhou, Zhuhai by ferry.
Freeway: Directly linked to two freeways (S3 and Guangzhou-Shenzhen Highway) and one express road (Haibin Boulevard). The overpass project featuring Shenzhen World toll gates along S3 Phase II has been open. The project is also going to link Shenzhen-Zhongshan Tunnel, and the interchange between Shenzhen International Airport and He'ao to form a highly connected transportation system.
Metro: The Fuyong and Qiaotou stations in the current Metro Line 11 are only 5 km from the venue. Line 12 and Line 20 under construction will directly serve the venue with two metro stations, Shenzhen World South and Shenzhen World North. Line 20 connects Shenzhen World with the Shenzhen Airport with only one metro station in between and offers transfers to Line 11 and the Guangzhou-Dongguan-Shenzhen inter-city railway. Line 12 will offer transfers to Line 2 in Dongguan in Guangzhou.
Railways and High-speed rail: The venue is next to the Sea Garden Station along the Shenzhen-Maoming Railway under construction and the Guangzhou-Dongguan-Shenzhen Inter-city Railway expected for services in 2019. Planning for construction of the high-speed train station in Shenzhen International Airport has already been officially approved.
Shuttle bus: Shuttle bus services are provided to facilitate transportation between the venue and metro stations, Shenzhen International Airport, bus terminals, business centers and hotels nearby.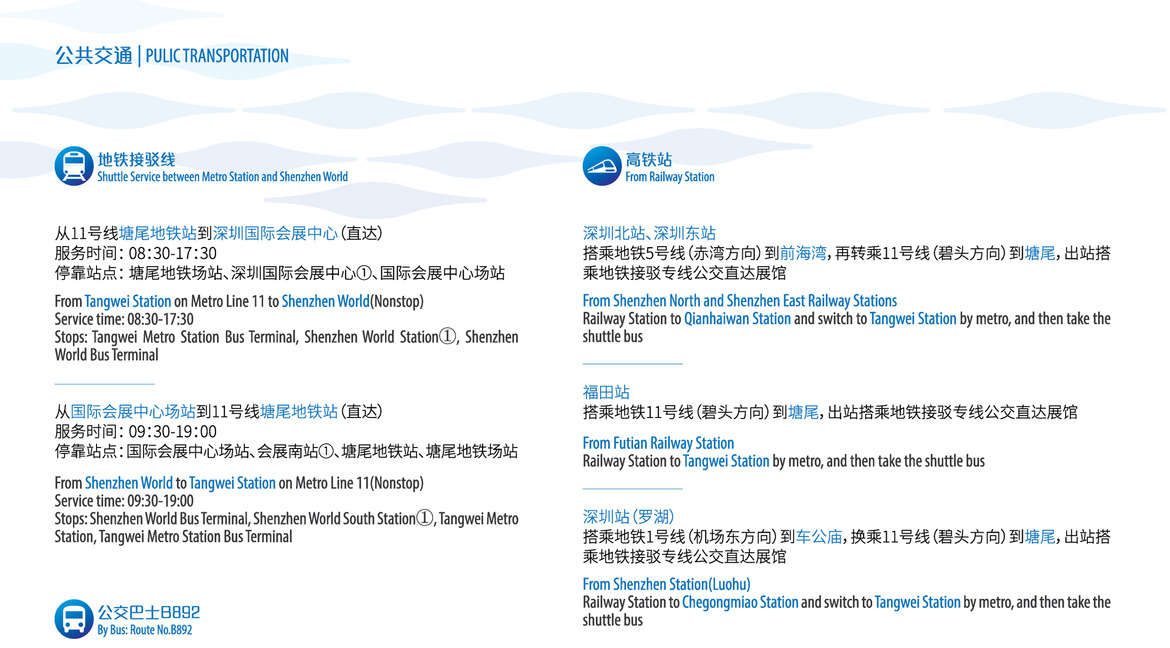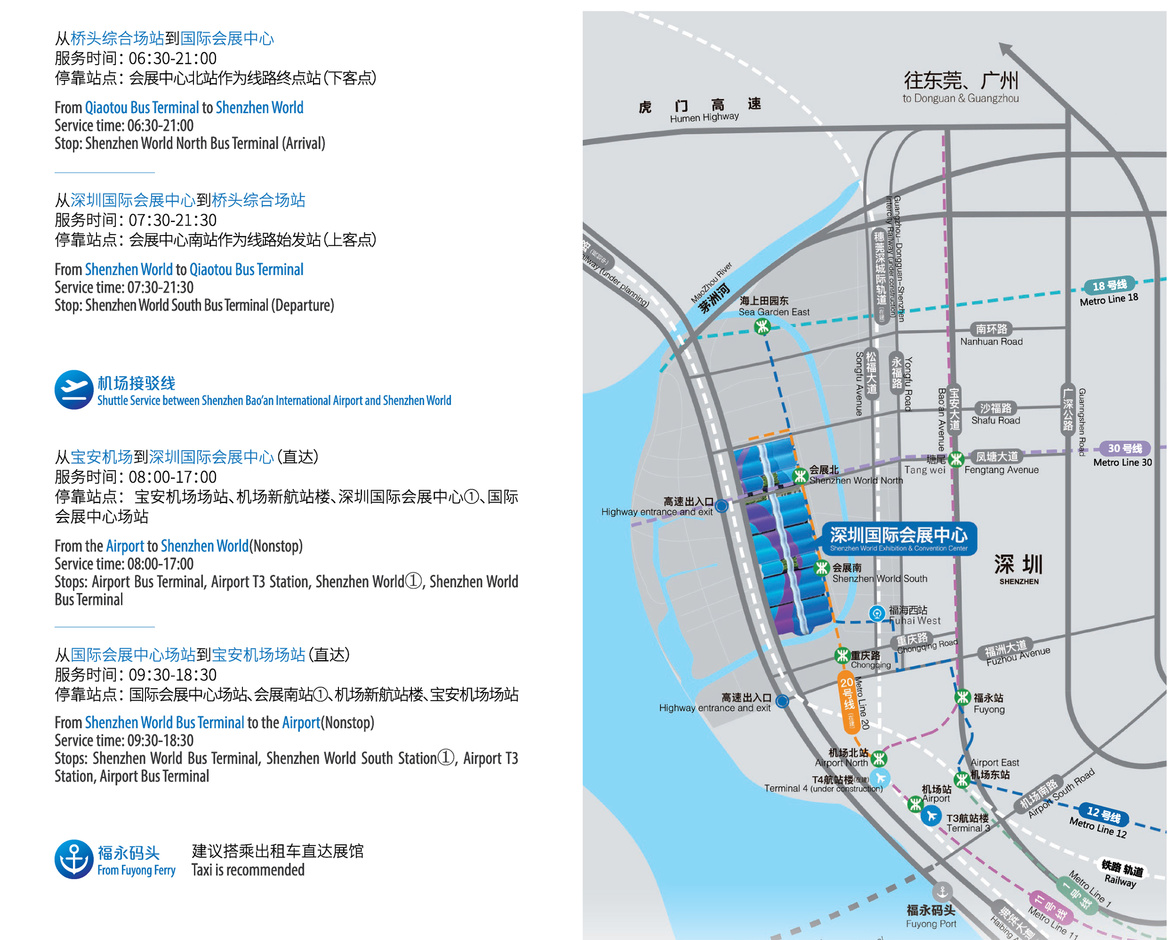 Groundlevel Parking
Parking in Shenzhen World is constituted of above-ground and underground car park. Taxi: at the east side of two lobbies and at the South Entrance.
VIP parking: at the west end of the two lobbies and outside Hall 18, providing about 555 parking spaces.
Truck temporary parking: adjacent to each exhibition hall except for Hall 18, providing about 846 parking spaces.
Truck marshalling yard: at the north end of the venue boasts 1,472 parking spaces.
Underground Parking
The dual-level underground parking provides 9,133 parking spaces.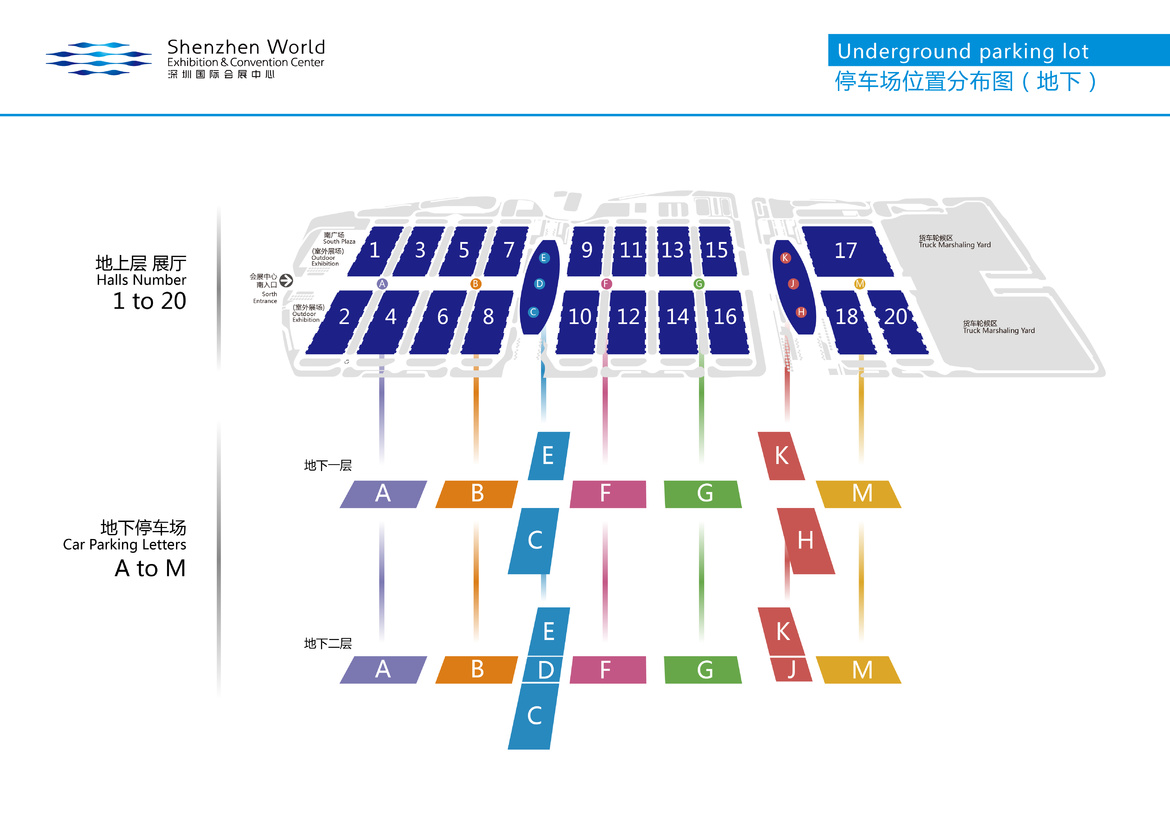 HJT Expo (Shanghai) Co., LTD
Founded in 2011, HJT EXPO is China's outstanding exhibition and conference organizer. The company focuses on the professional exhibition and conference in the subdivision field, and is committed to providing the most professional exhibition service platform for the subdivision field, creating value for the industry from the most professional perspective.
Let trust create opportunities
Please browse vertically for better experience.