CIBRUSH Organizing Committee trip to Sanxiao Group
Previous Review 2017.04.06
On November 6, 2015, the CIBRUSH Organizing Committee came to headquarter of SANXIAO Group in Jiangsu ,had a further communication with Mr. Baoqin Wang , the Deputy General Manager of this group. Mr. Wang, as Secretary-General of China Sundry Articles Industry Association toothbrush branch. Firstly, Mr.Wang introduced briefly the toothbrush industry development in China Yangzhou Hangji Town as the China Toothbrush Capital. Then he put forward some valuable suggestions for the success of CIBRUSH 2016, and he promised that he would call up the enterprises in China Toothbrush Capital to actively participate in the exhibition.
Referring to "Sanxiao",we would recall the "transnational marriage" with Colgate in 2000.
That year, Colgate--the production and sales world champion of toothpaste and Jiangsu Sanxiao-- the production and sales world champion of toothbrush, set up a joint venture "Colgate-Sanxiao Limited.Company" The joint venture controlled by Colgate has the right to use the toothbrush trademark of "Sanxiao" under this cooperation. Colgate toothbrush so quickly penetrate into China vast urban and rural markets, ranked as the top-selling toothbrush category. For this action, who is the winner or loser, different people has different opinions. Today, we are concerned about what Sanxiao got from the event. This topic, Mr. Wang gave us a very good explanation. He thought the joint venture built on "Sanxiao" trademark as a link, the bridge, born the opportunity with the world's five hundred modern enterprise for "Saoxiao". Sanxiao group won the chance that is "Dances with Wolves". During that time, Sanxiao Group learned "wolves skills", namely: accumulated the most advanced enterprise management experience effectively, more attention to corporate culture, as well as has a very significant upgrades in technology . Now Sanxiao Group has developed into a large-scale private enterprise group of daily chemical products, home health insecticide products, personal care products, real estate development, foreign investment.
In 2010, while the forbidden rules (Sanxiao can not go into the brush making industry in 10 years) was invalid, Sanxiao Group went back to the field of oral care products with the "Smiclean"
"Smilucky", " Kejie" the three brands. In four or five years, Sanxiao group, as the "toothbrush family", its "Smiclean" brand has been the runner-up in nation's large retail store. "Smilucky", " Kejie" had taken root and made remarkable achievements in the distribution market.
Mr.Wang also took us to visit Sanxiao Group toothbrush production workshop specifically. The advanced producing equipment, standardized management, clean workshop impressed us deeply. The most important point we understand that, the cost for "Sanxiao" is the brand loss, after that , without any doubts , the promoting of the national enterprises is on the way!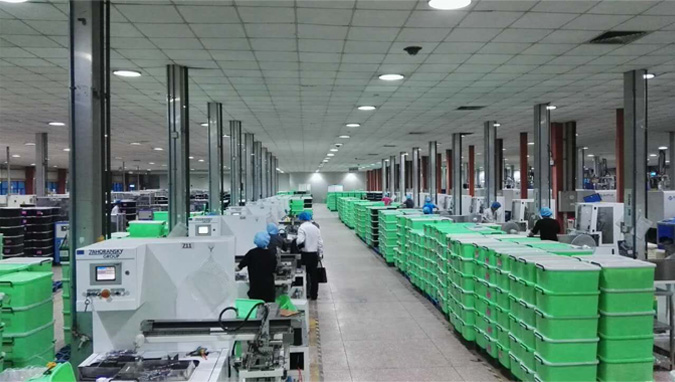 Brush making workshop for Smiclean brand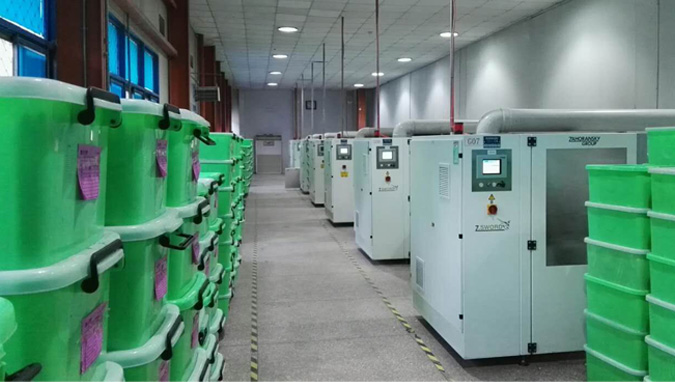 Producing equipment imported from Germany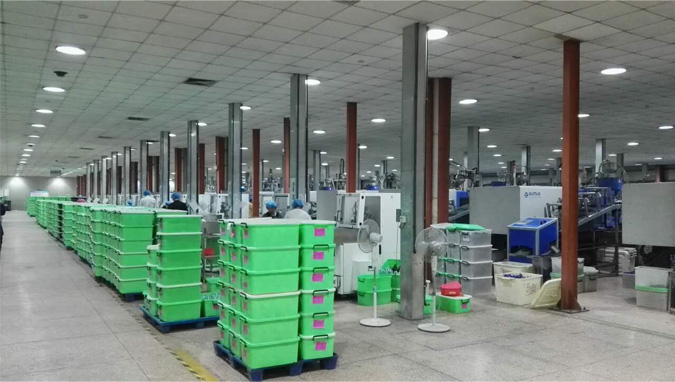 Took group photo in front of the headquarter of Sanxiao Group